Aluminium Doors
Aluminium sliding doors are revered for transforming dreary looking spaces into inviting ones with their ultra slim sightlines and neat, minimalistic proportions. They are available in multiple RAL colour options, making them sympathetic to any contemporary or modern architectural style.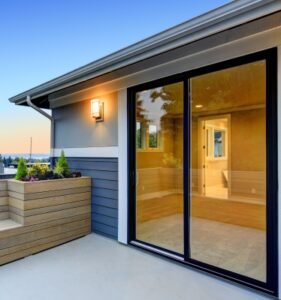 A significant one nonetheless, aesthetics is just one of the many transformative effects that sliding doors have on any living or working environment. The rest are listed below.
1.Energy Efficient:
Attribute it to their unique design or properties of aluminium, these doors offer tremendous thermal insulation. Simply put, they keep the indoor temperature to your liking, allowing you to skip the rising mercury in summers and freeze in winters. You can also get a EPDM gasket fitted on the doors for efficient thermal insulation, ward off dust, dirt and rain to achieve an acoustic effect. After all, you deserve the highest level of comfort all year round.
2.Safety:
There was a time when safety was an issue with sliding doors but not anymore. The modern-day manufacturers use toughened, safety glass, which is shatterproof and does not yield easily to force or temperature changes. Providing multi-point locking mechanism in aluminium sliding door track is also a standard practice among top brands for additional security.
3.Durable:
Aluminium is a strong material and the sliding frames made of this metal are bound to stand the test of time. They resist wear and tear, insects, termites, corrosion, rust and other factors and perform well even in the most inhospitable of settings. You can also count on them to stay intact in fire and prevent flames from spreading to the other parts of the property.
4.Space saving:
In the modern day, space-cramped urban dwellings, sliding doors are a boon thanks to their practical design. Unlike traditional doors that swing open and require hinges, these doors slide seamlessly on a horizontal track. As the arc is completely taken out of the context, you end up realizing space saving, regardless of the aluminium sliding doors sizes.
5.Harmonizing indoor and outdoor spaces:
When you need to draw a line between the indoors and outdoors without obstructing the flow, aluminium sliding doors are your go-to source. These doors feature elaborate patterns, slim panels and amplified glass area, offering you the best views of the outdoors, plenty of sun and continuity between inside and outside. The increased aesthetics is an additional advantage.
admin 17-Oct-2018